1/24 Scale Length: 53" Beam: 12"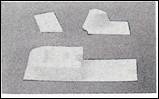 The hard work is already done on this one! The four piece fiberglass "Semi-Kit" includes the hull, a detailed superstructure, the funnel, and a rear hatch cover. Full­ sized plans show three ways to build it:
A sleek PT. a heavily armed gun boat, or an up-to-date fast attack craft armed with EXOCET or HARPOON missiles.
103 NATO Attack Boat "Semi-Kit" w/Plans:  $ 499.00