1/24 Scale Length: 55" Beam: 10"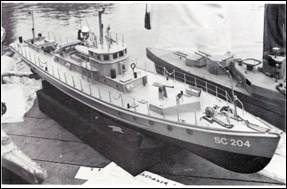 The WW I wooden SUBCHASER that this hull was modeled after was renowned for its clean, fast, easy pushing hull built of wood that matched all the metal hulls built for this class of boat. After
the war, many were used by the Customs Service to battle the rum runners and several survived to serve in WW II, along with their sister ships in the Navy and Coast Guard. Plans show her as she was in WW I and, with the DYNAMIC fittings available, make this model a good choice for a builder getting into fiberglass and wood for the first time.
130  WW I Sub Chaser Hull w/Plans:  $ 325.00