The Delta Queen is an American sternwheel steamboat that is a U.S. National Historic Landmark. The Queen is 285 feet long (86.9 meters), 58 feet (17.7m) wide, and draws 11.5 feet (3.5m). The boat weighs 1,650 tons (1,676 metric tons), with a capacity of 200 passengers. Its compound steam engine generates 2,000 ihp, powering a stern-mounted paddlewheel. In 1946, Delta Queen was purchased by Greene Line Steamers of Cincinnati, Ohio and towed via the Panama Canal and the Mississippi and Ohio Rivers to be refurbished in Pittsburgh. On that ocean trip she was piloted by Frederick Way Jr.. In 1948 she entered regular passenger service, plying the waters of the Ohio, Mississippi, Tennessee, and Cumberland Rivers between Cincinnati, New Orleans, St.Paul, Chattanooga, Nashville, and ports in between. Ownership of the vessel has changed a number of times over the last fifty years, and since 1971, Delta Queen has operated with a presidential exemption to the law prohibiting the operation of overnight passenger vessels with wooden superstructures. Her Betty Blake Lounge is named in honor of the lady who rose from secretary to president of the steamship line and who lobbied for the exemption. The vessel is now operated by Majestic America Line [1]. The vessels were purchased from the Delaware North Companies in April 2006. Besides the Delta Queen, the company also operates the American Queen and Mississippi Queen, modern steamboats designed along the lines of the Delta Queen, but carrying around 400 passengers. The company also offers riverboat cruises along the Columbia and Snake Rivers in Oregon and Washington, and cruises through the Alaska Inside Passage. The Queen recreates historic steamboat races each year during the Kentucky Derby Festival, when it races with the Belle of Louisville on the Ohio at Louisville in the Great Steamboat Race. The winner of the annual race receives a trophy of golden antlers, which is mounted on the pilot house until the next race. They have also raced during the Tall Stacks festivals celebrating steamboats, held every three or four years in Cincinnati (the Delta Queen's former home port).
On August 1, 2007, Majestic America Line announced that the Delta Queen would cease operations permanently at the end of the 2008 season. The temporary exemption from SOLAS needed to keep the Queen running was reportedly thrown out in a recent Congressional decision. However, devotees of the boat have begun staging a "Save the Delta Queen" campaign similar to the one undertaken in the 1970s. Her future is currently uncertain, but she will continue to operate through November 2008.
60" X 13.7"
1/50 SCALE
THIS PROJECT WAS RESEARCHED ABOARD THE DELTA QUEEN IN AUGUST 1974. DRAWINGS ARE DONE AT 6.096MM TO THE FOOT. THROUGH EXPERIMENTATION, IT HAS BEEN DETERMINED THAT THE PADDLE WHEEL SHOULD TURN AT ROUGHLY 45 RPM TO PROVIDE ADEQUATE RUDDER STEERAGE.
HULL & DECK
HMB-61 – PRICE: $ 450.00
HMB-61PL – PLANS - $ 60.00
FITTINGS – FUTURE RELEASE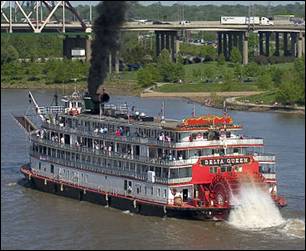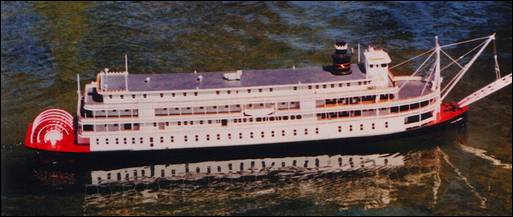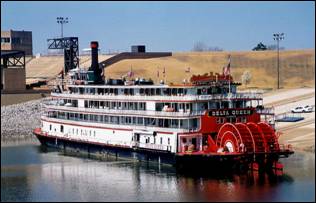 UPDATED VERSION
HULL & DECK
HMB-76 – PRICE:  $ 475.00
HMB-76PL – PLANS - $ 60.00
FITTINGS – FUTURE RELEASE